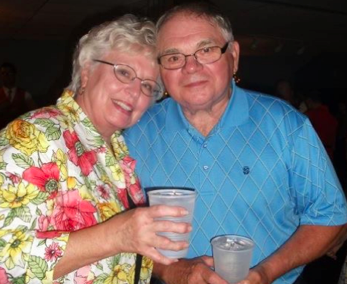 Richard & Sharon Laurell
Parents of our Late Founder
Our introduction to mucinous ovarian cancer came in the fall of 2019 when our beloved, youngest daughter, Rhonda, had her annual physical. Abnormal lab results seemed to indicate a problem with her colon. Further testing and biopsies soon lead to a diagnosis of this rare, aggressive form of ovarian cancer.
Over the next year, Rhonda suffered through an unsuccessful surgery, as well as repeated hospital admissions for infections, blood clots, and low white cell count. She underwent two aggressive courses of chemotherapy, neither of which were successful in reducing the tumor.
Rhonda handled this ordeal with her trademark courage and grace. She empathized with the struggles other women were going through. At the cancer center, Rhonda observed women who always seemed to be alone. She noticed some missed treatments because they lacked the support she always had. Despite her difficult personal battle, Rhonda would tell us how blessed she felt and became determined to do something to help these women. 
Rhonda's determination and that of our oldest daughter, Shelley, led to the founding of the Mucinous Ovarian Cancer Coalition. Family and friends joined the fight. Rhonda started the MOCC Cares packages soon after the launch. She carefully chose items to include in each of the care packages, and wrote personal notes of encouragement to go in every box.
The foundation was a great source of pride for our daughter. We continue to support her work in hopes of finding a cure, and preventing other families from experiencing the profound grief caused by having to say good-bye to a loved one far too soon.
 #HerFightIsOurFight